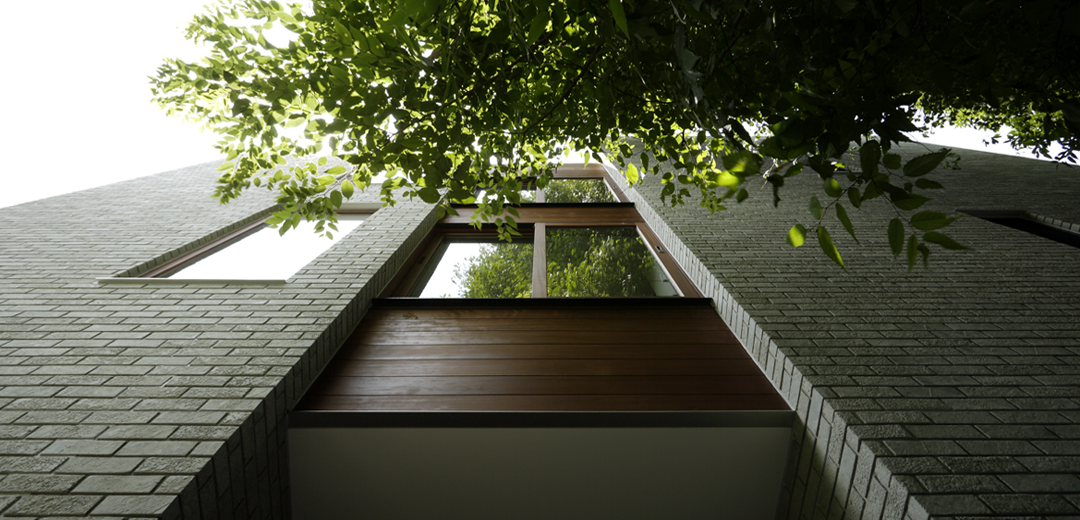 Duplex House in Gokokuji
Duplex House in Gokokuji
House for independent families to keep each lifestyle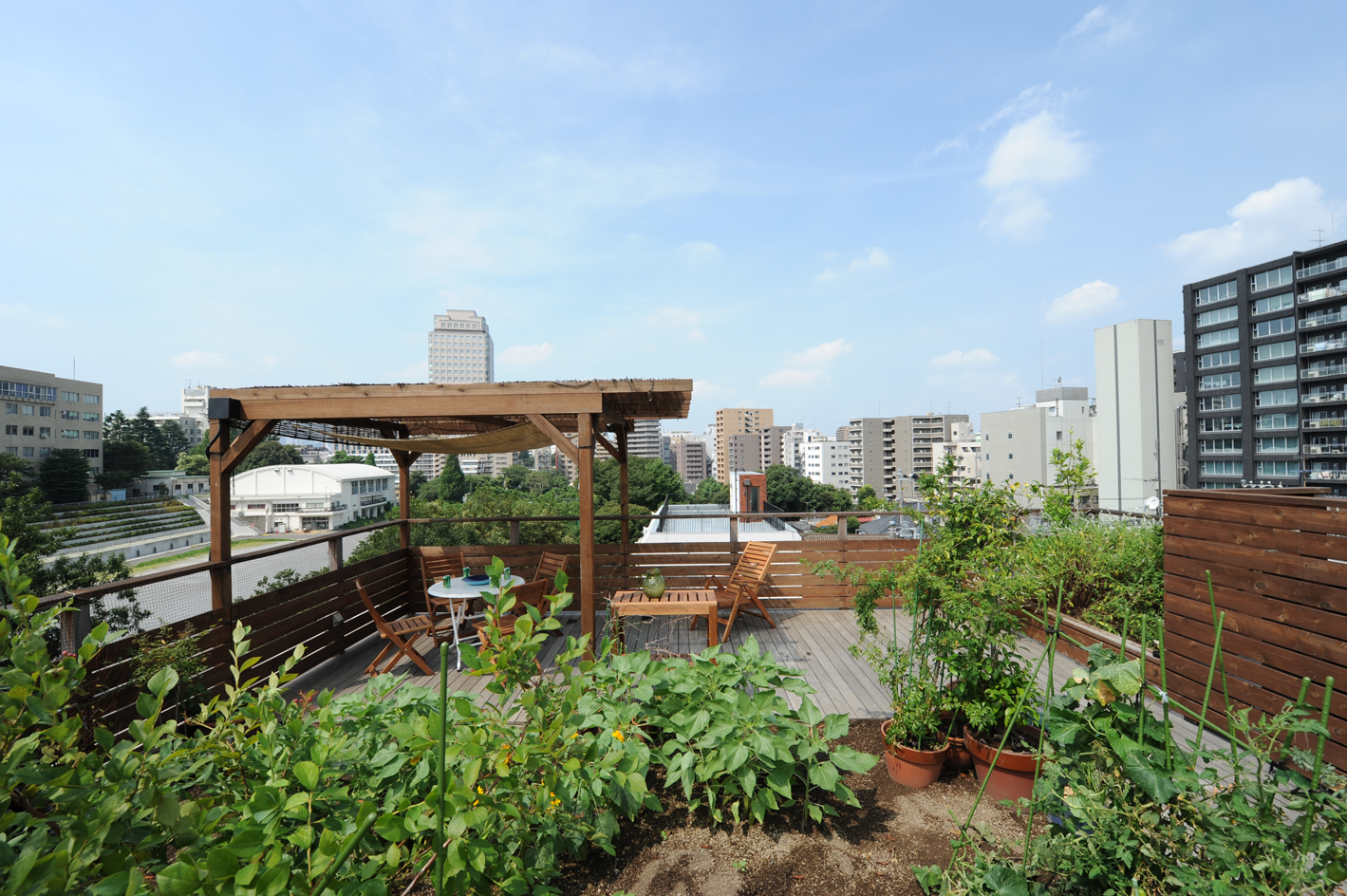 The solid determination of parents that they must act while their bodies are moving properly has advanced this project. The first thing both families did was to discuss whether they should consolidate the house or not. Such stories tend to be skipped occasionally and will eventually tend to get caught up in conflict. After extracting the same conclusion from each other, exploration of the land began. It is worth noting that this "double house" is actually two families sharing buildings, and not two families to merge into one family. The upper floor (3rd floor) is for parents, the lower floor (2nd floor) is for son's family. Each family leads a different lifestyle according to their respective life stages, but the sense of safety that they are living nearby is highly appreciated. It is like living in the same apartment. It is not "two families under one roof", but living together of different floors.
We targeted the city center as a potential area where shops, hospitals and parks are within walking distance. It was particularly important for parents as mobility declined as their age approached. We decided to concentrate on the areas of Chiyoda, Shinjuku, Bunkyo, Toshima and Taito located in the JR Yamanote line north of JR Chuo Line due to the familiarity of the neighborhood and cost constraints.
We then narrowed the area of stable ground for earthquake safety. As Tokyo often has rivers and swamps as residential areas in the past, we will also seek ground information from the historical maps. Lush greenery is also an important priority. In addition, lands that are generally shunned, such as around the grave, also have priority to search because there are open spaces and abundant greenery.
After finding a possible site, we will examine how much floor space buildings will be built from the quantity and type of buildings, the volumetric ratio, building rate, oblique line restrictions etc. This is one of the big advantages of leading an architect to the land exploration process. With experts' opinion in mind, you can make informed decisions upon the purchase of land.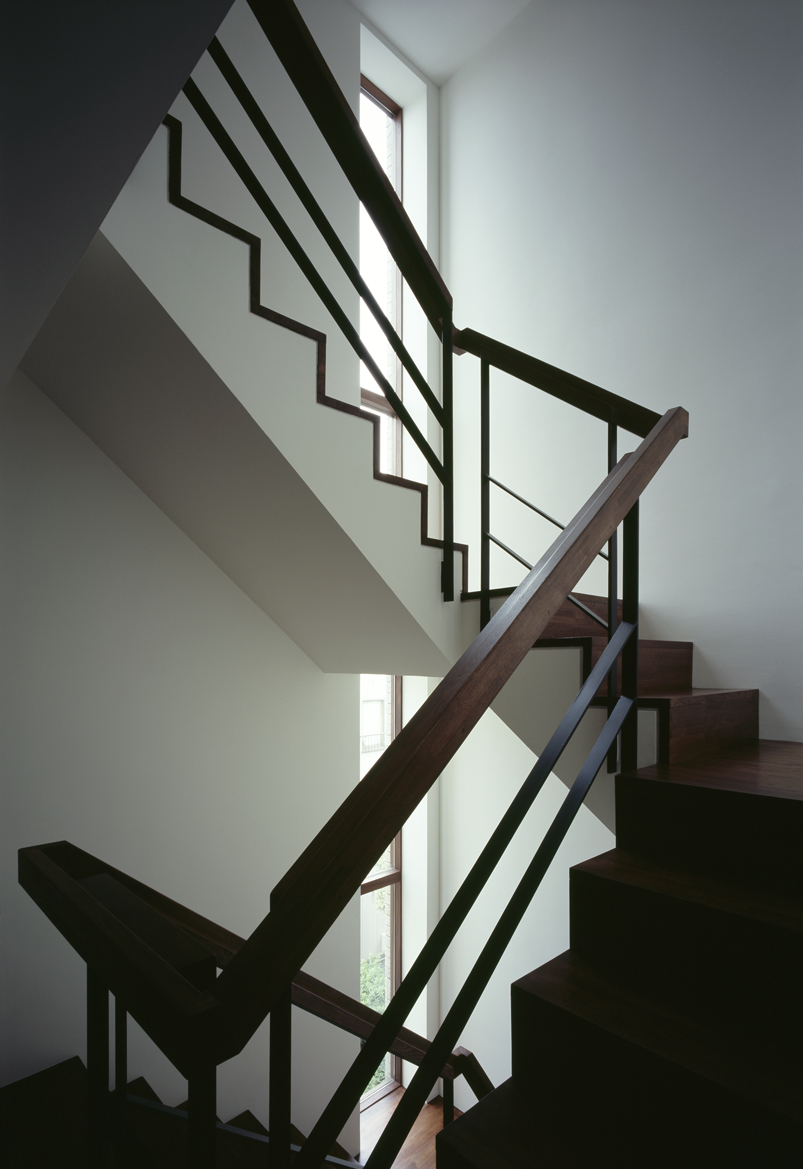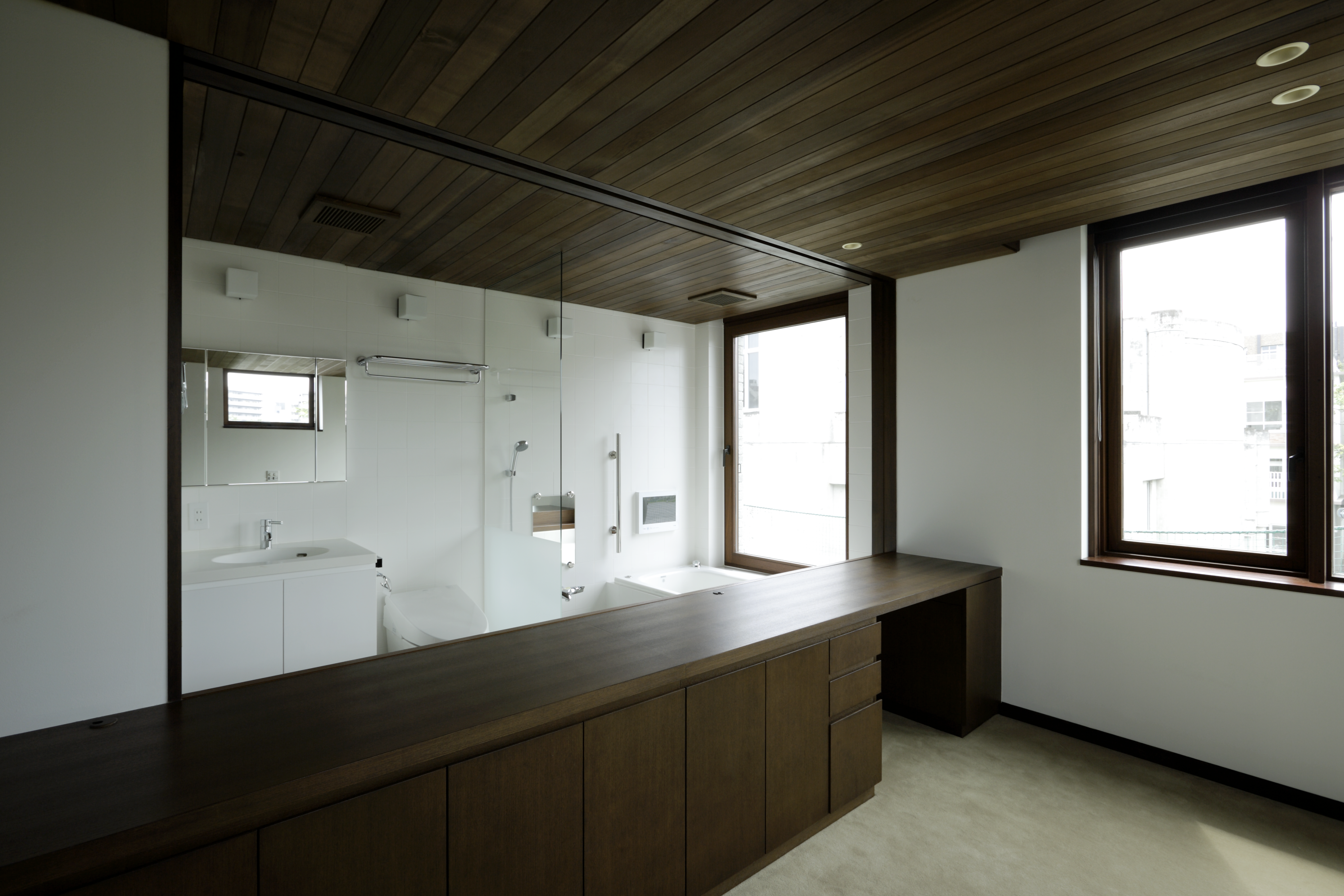 I want a warm home. I do not like cold house.
I want a house with a big window. It is good that the inside of the room is bright.
Barrier-free. Wheelchair accessible.
Home elevator installation.
Make a garden on the roof, grow seasonal flowers, eat fresh vegetables harvested in the field.
I want storage in the basement to keep as many things as possible.
Facing the south, the bathroom should be connected with the bedroom with an sliding door. I want to be able to check the signs and movements of each other while turning the steam in the bathroom into the room.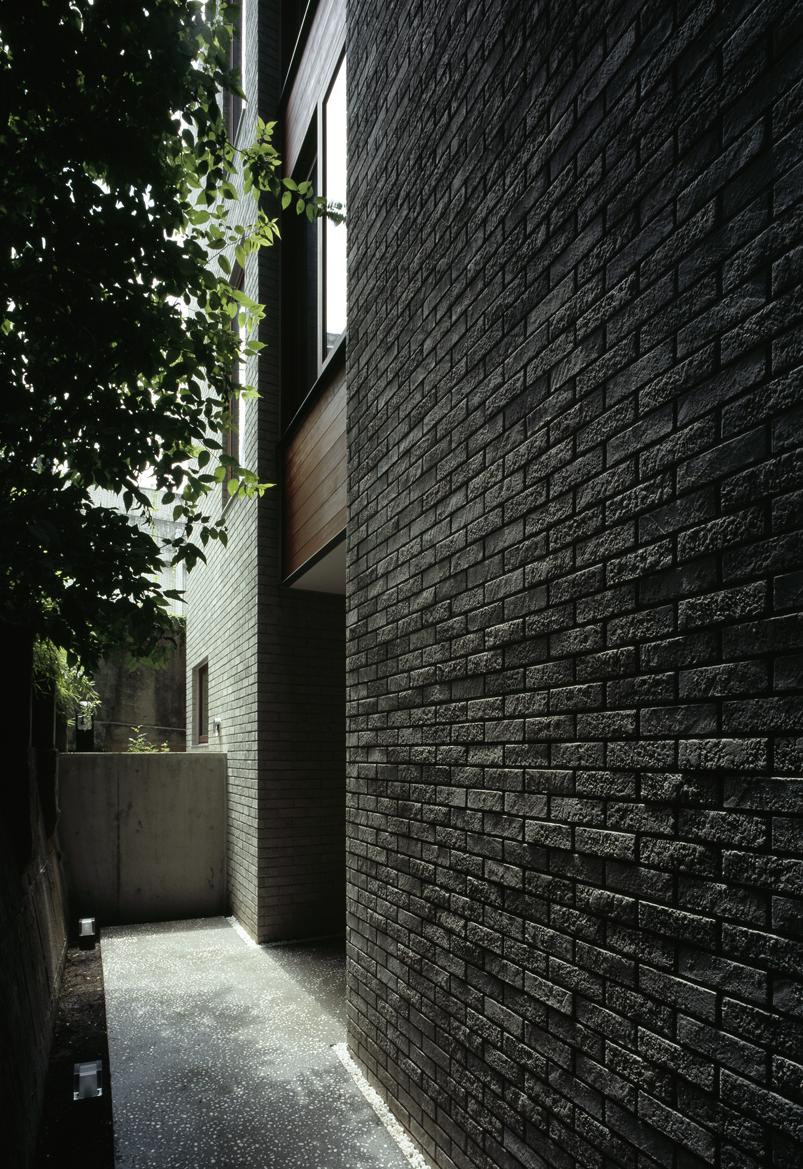 Exterior Tiles
The keyword "Wakakusa iro"(literally the color of young grass) issued from the family, and the hunt for the ideal green tiles were launched throughout the city of Tokyo. After exhausting tile search, the texture of the rough and natural has become optimal. It means that the industrial products with uniform alignment were to avoid. Many samples away, finally it was decided to be Clay Meister of Oribe ceramics.
Regarding the color intensity and roughness, I tried grilling while making trial making and talked over. Although I imagined the color of the light color of Wakakusa, which is different from each other, and also I imagined the color of young grass which is close to natural color, but when I actually made samples I discovered that the artificial hue becomes stronger and it is different from the original speculation Unique to tailor-made tiles, there was a fun process. Even now, since it is a building wrapped in this "young grass color" tile that comes into my eyes when I return home, I realize that color and texture are very important.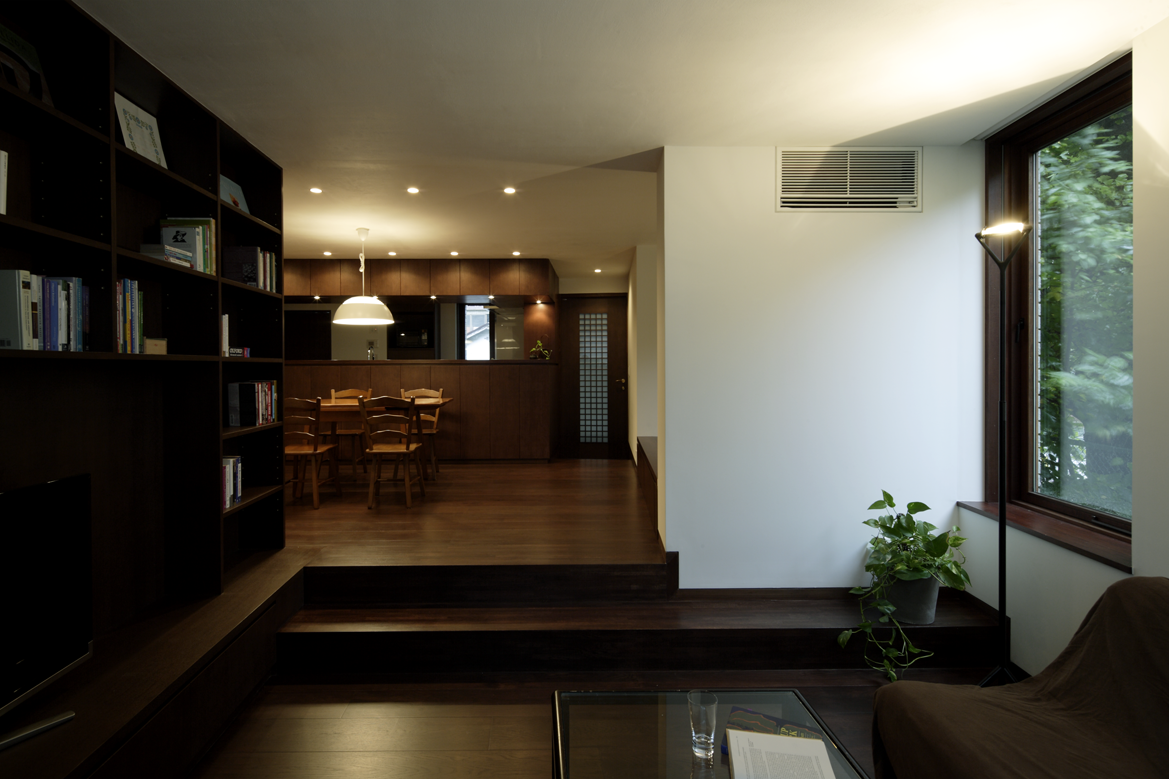 Wide Flooring
In a composite flooring with a thickness of 9 mm to 15 mm of solid wood flooring and thin composite plate with 1 mm or less thin plate, there may not be much difference in the far eye, but as you approach and confirm, a big difference between visual and tactile You see that there is something. On the other hand, in the case of solid wood flooring, it is difficult to secure a large material with beautiful eyes within a certain cost range, so it becomes a thin and small flooring material, but in case of composite flooring, large flooring with uniform eyes becomes possible. In this project, we adopted engineered flooring of 4 mm thick thick thrust plate, taking both good points. Due to its wide width and solid texture, it realizes a strong materiality.
Wood Sash
I believe that wood sash is a product that is located between industrial products and handicrafts. It realizes both natural warmth possessed by wood and the functions of industrial products. However, since trees dry and shrink over a long period of time, it is unsuitable for those who cannot forget a little draft because airtightness and heat retention are naturally inferior to highly heat-insulating resin sashes. Still strongly recommend it to those who love the warmth of wooden sash.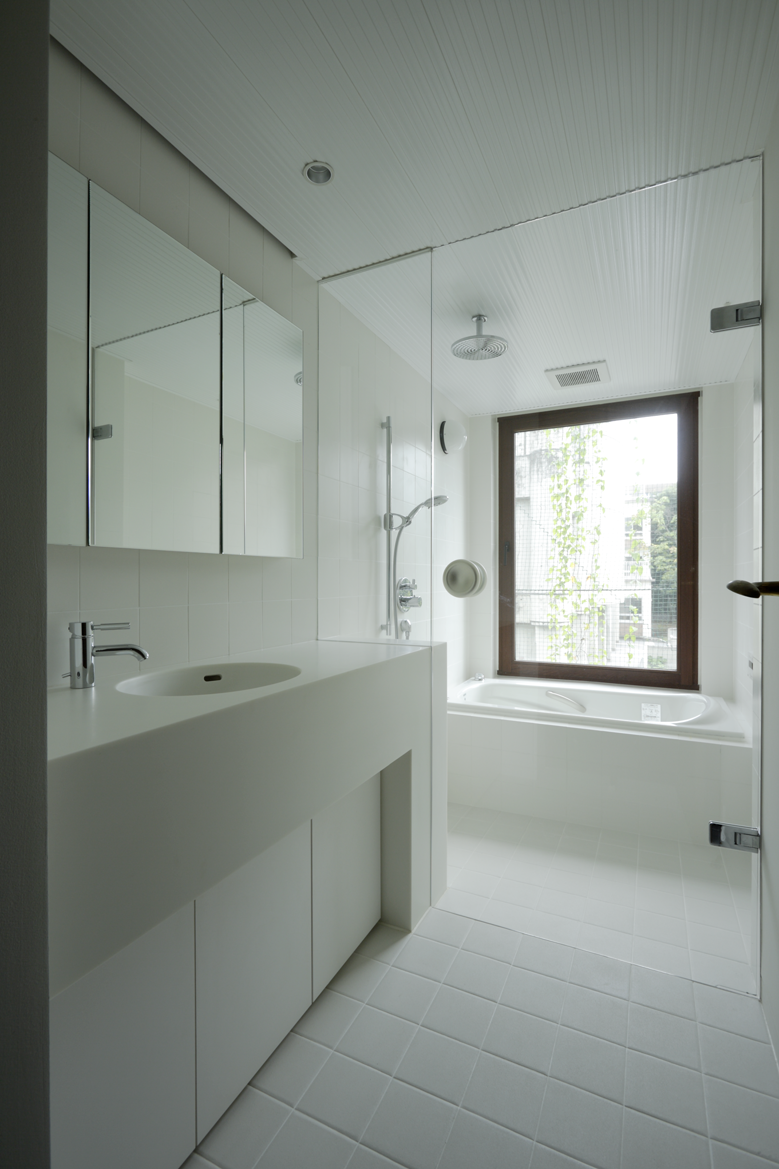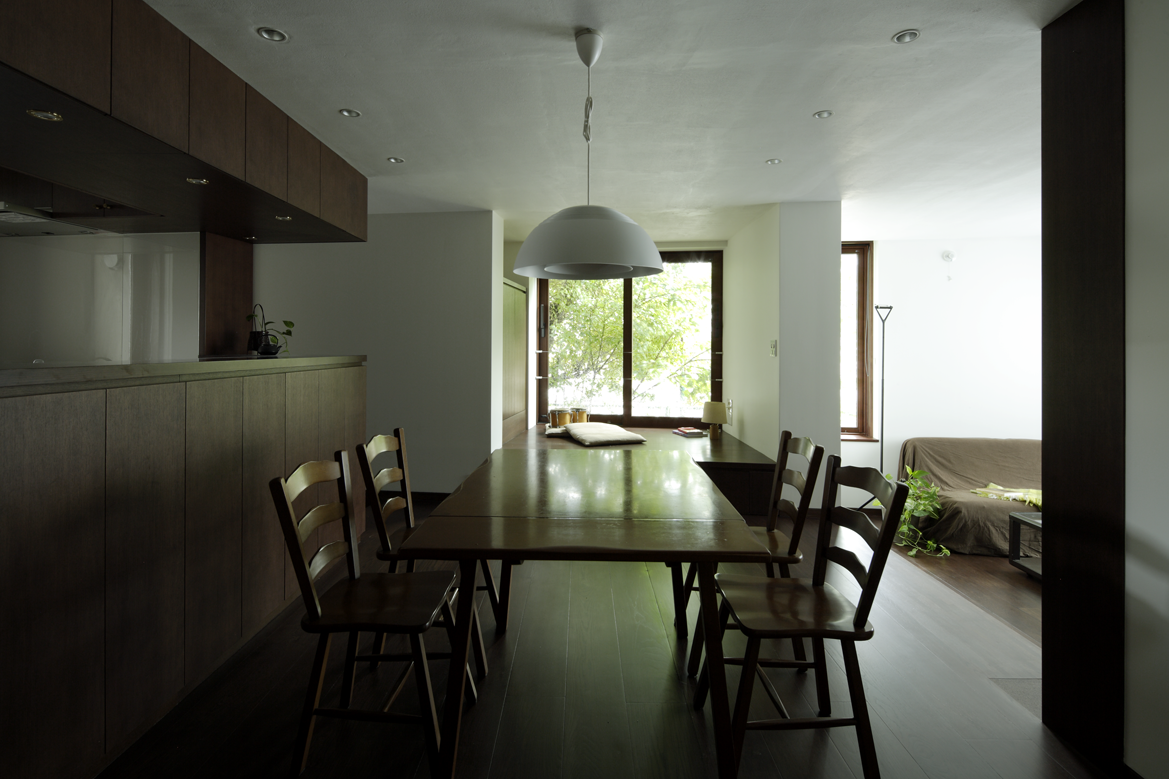 Floor Plan
I believe that the dining hall, where families gather should be the center of the house. Naturally, we placed the dining room at the core of the planning plan, and arranged the living room, the kitchen, and other spaces around it. In addition, by creating skip floor, I intended to generate more spacious feel than the actual dimension. The of sight passes in diagonal direction is felt wider.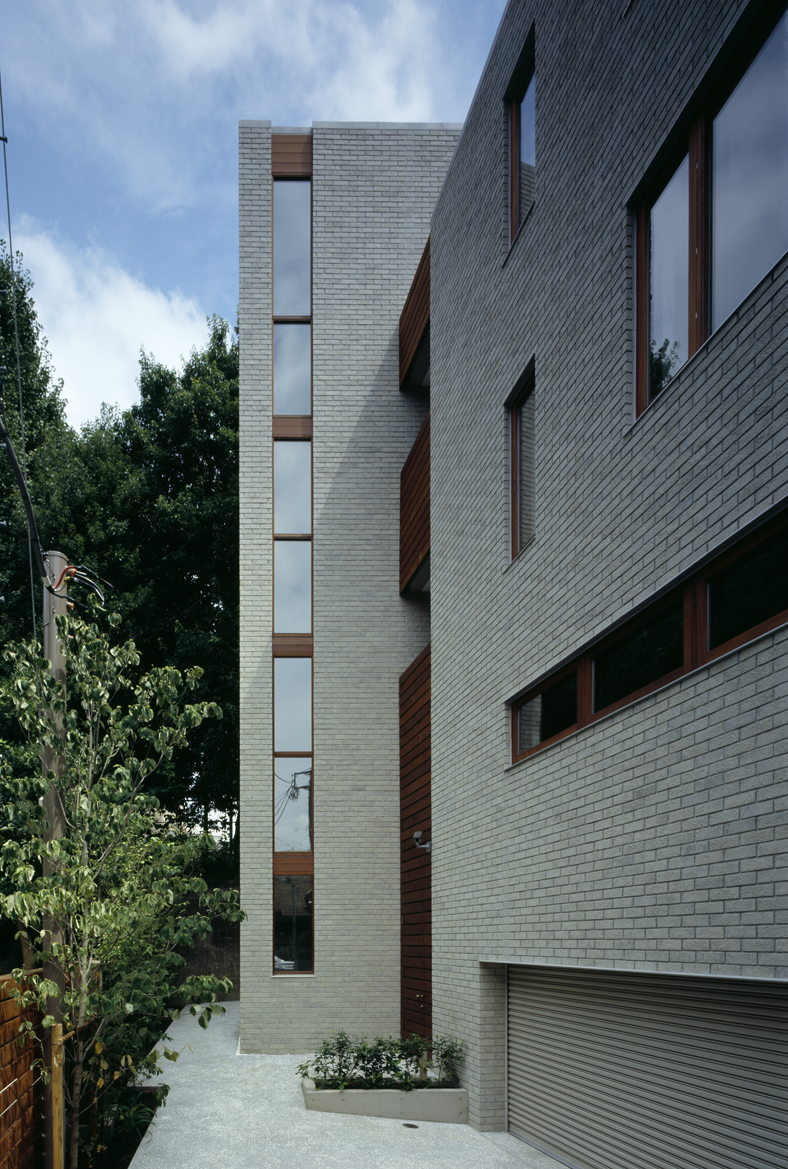 Exterior Approach to the Building
I like taking a long approach to the building. Why? By creating a footpath to the entrance, one can be prepared to make a gradual transition from the busy public road/area to the calming personal spaces with the greenery at your sight.
Since this is my own residence, almost every day, I discover imperfections and almost there kind of perfection around the house. This is a constant reminder to me as an architect for keeping improving by learning from the things I have done in the past. There are many should'ves would'ves and could've. However, I do not dwell on the past mistakes so literally.
It is my strong belief that I always should do my best to realize the clients' needs into the shape of architecture by using all current possible options. This may sound strange, but it does not matter whether I live in this residence or not. In this particular project, what I did was to devote every effort and passion, as always to any other projects.
Of course, you must maintain regular as a resident. Because it always requires attention and maintenance, some people call home as living things. It is safe to say that this dwelling is a statement of what I value. Therefore, it serves as a sample house for people who want to see the state of the building. In the past, the client noticed what I did and adopted the same principle to their project. In a meeting, you can show how I prefer authentic wood flooring and textured tiles. It is advantageous for us to be able to show reliable samples. In this way, clients are able to make more informed decisions by seeing not only in its brand-new condition, but also on its weathered condition.