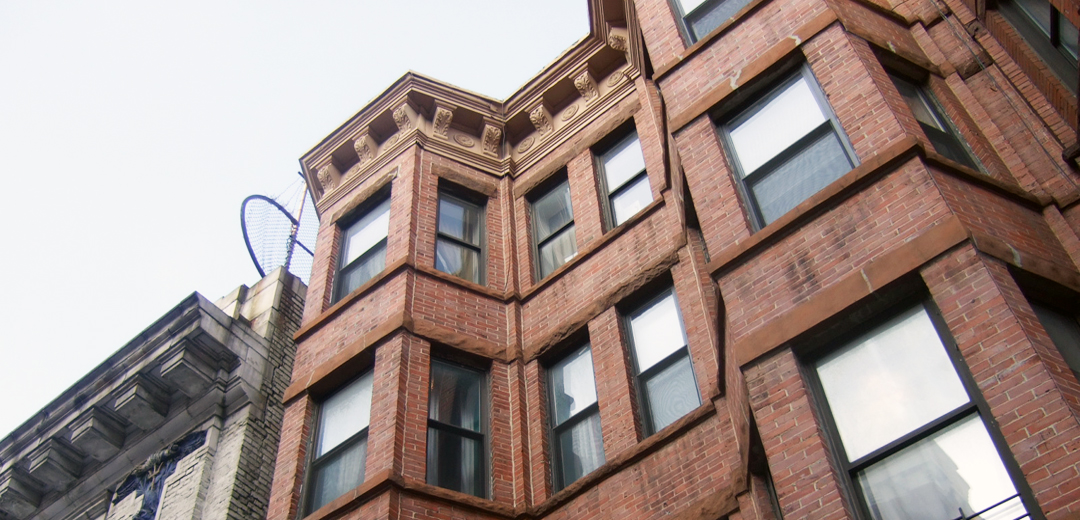 Renovation in Brooklyn
Apartment Renovation in Brooklyn
Brick walls over 100 years old
Maple kitchen counter extends from the floor to the ceiling
IT ALL STARTED from a conversation with a friend of a graduate school (GSD) who had purchased her first apartment. She explained that though she has been paying her student loan, buying is cheaper than renting if you were to live in the city like New York for a several years. That intrigued me. Ultimately I took the course for real estate agent with my colleagues who also were looking into real estate investment. The apartment in Manhattan was already expensive, so I looked for Park Slope, Brooklyn. This area was close to work in downtown Manhattan, near the subway station, and expecting a price rise
The work of Pei office was fulfilling in certain extent. However, it was not a place to embody my design. Looking back on this, the renovation project served as the outlet for my creativity.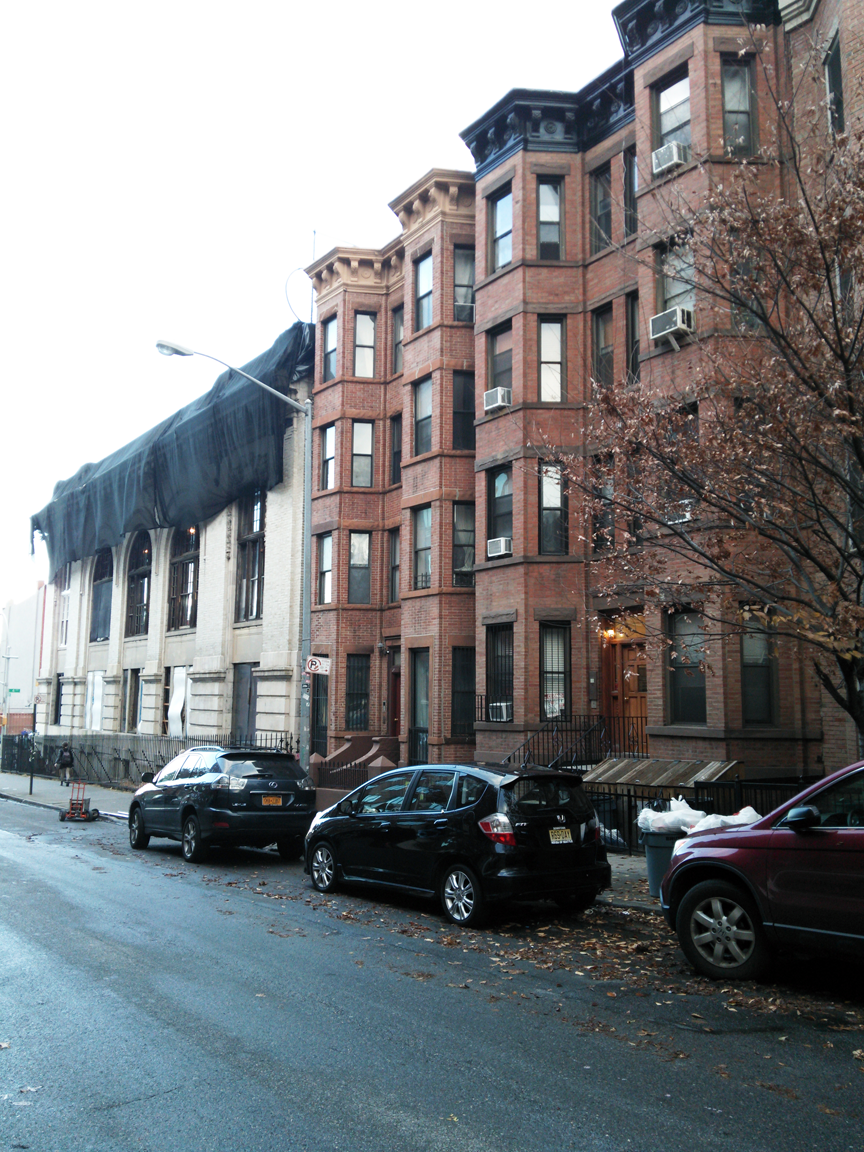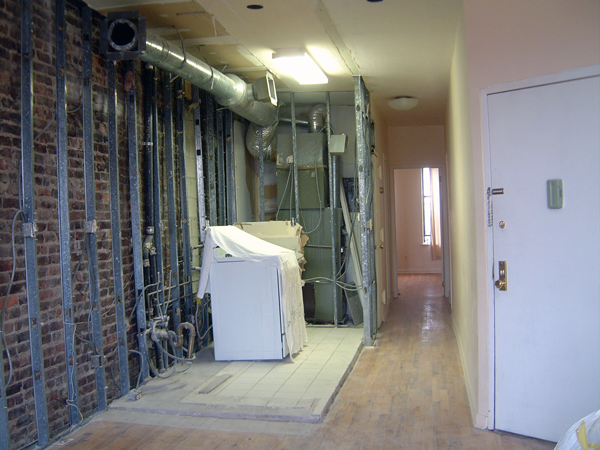 As for kitchen, my architect friend introduced me to local furniture craftsman. For the equipment supplier, I found the ad on Chinese newspapers in Queens and asked him to do the work.
Every morning before going to work, I wrote instructions in Chinese for my contractor to read. He came to my room during the daytime and worked. Since we share Chinese character as a common language, it was easier than speaking English on the phone. As my Chinese ability was limited, I often asked questions to my friends at work what and how to say certain architectural term in Chinese. Thanks to this experience, my vocabulary in Chinese has expanded immensely.
This is how it worked. Finishing work at 6pm, I went back home and fixed dinner. Then, the disassembly begins. I peel off walls, ceiling drywalls and aluminum base materials with my hands. The Home Depot has become my favorite place where I purchased tools and materials
The renovated apartment is nearly 100 years old. For me of Japanese people, the presence of bricks 100 years ago is exceptional. I decided to expose the brick wall at the very beginning.
I enjoyed the texture and tactility of substantial bricks so much. Its nostalgic feel is somehow emulated to the tile work for my "House of Gokokuji" which I designed after returning to Japan.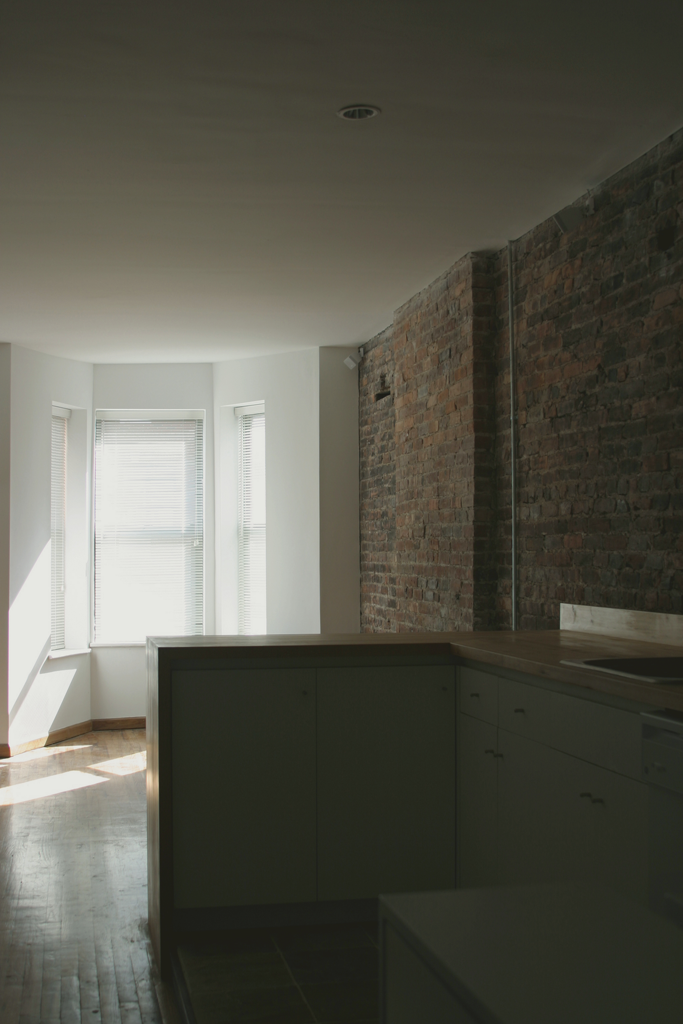 Normally such old bricks are hidden by the white walls of the gypsum board to avoid dust. In addition, if the gypsum board and the air layer behind it do not exist, the insulation performance will be compromised. There were times when the water pipes froze and burst during window replacement. Getting electric shock while repairing the wiring on my own was another mishaps. Sometimes I reminisce my dusty days of trial and error as tremendous fun.
During the construction, I put a beer case in front of the TV, using as a dining table. For the shower water, I boiled the hot water with an electric kettle. Though I lived in a dusty construction site, it was fun. One time I lost my balance from the ladder and fell to the floor. My right shoulder was dislocated. Ouch. But thanks to that, I was able to acquire better left-hand skills for chopsticks and writing.
In cities like New York where the market of used houses is mature and actively pursued, a room renovated by architect has its additional perks. Usually the price can be higher. I eventually sold this apartment after coming back to Japan. From the investment point of view, the profit covered the renovation fees. It was meaningful experience. However, maintaining real estate in overseas from Japan was a difficult challenge. As an owner, you need to negotiate remotely, including infrastructure problems such as electricity, gas, water supply, and interaction with neighboring residents.
I was working at that time, but purchasing real estate in a foreign country was an unforgettable experience. Before signing, I studied the legal conditions thoroughly and asked everything I could not understand. I was surprised that contracts in English were fairly simple and easy to understand if you had enough patience. Before I set up a loan, I investigated quite a bit about which companies to choose. It was another precious real life lesson. Since I was surrounded by information rich architect (GSD and work colleagues), I was able to ask questions in my mind anytime. In retrospect, this experience will ensure that I will work with foreign clients who wish to invest in Japanese real estate.